Ground Breaking Ceremony for Double Surface Dressing of Mpindi Road (700m)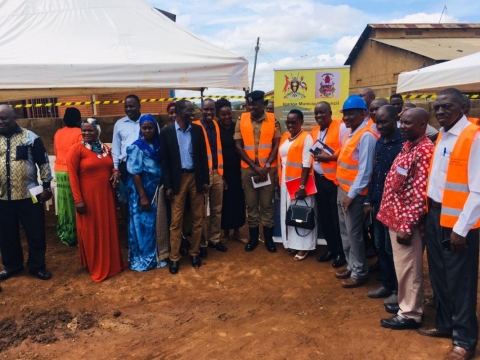 Madam Kwesiga Nalongo Evelyn the RDC Iganga District, Balaba David the Mayor Iganga municipality, Mr. Ndawula David DPC Iganga district Mr. Alikwan Ayub Kisubi the town clerk Iganga Municipal Council, Honourable councillors, Technical staff and the community at large during the ground breaking ceremony for double Surface dressing of Mpindi road (700m).
Iganga Municipal Council allocated 400,000,000/= (URF) for double surface dressing of Mpindi road. The road is located in Iganga municipality. It is about 700m in length, starts from the left hand side of Jinja-Malaba Highway round about and connects to Moses Kintu road in Bugumba parish in the Northern Division.
The road serves several social services in the area which include schools e.g. Iganga High School, Top care S.S etc, Hotels, religious centers, e.g. St. Jude Catholic Church, health centers, Officese.g. Iganga Municipal Council Northern Division's Offices, Commercials and residential areas.
Low cost sealing of roads is a type of road sealing technology that is relatively cheap, environmentally friendly and fit for low volume roads. The MoW&T is encouraging the use of this technology with the limited resources/funds that we have.
The road was designed by Iganga Municipal Council engineering Department in conjunction with the Ministry of works and Transport. The road was surveyed using RTK, DCP tests carried out and traffic count.
Project Management Team
Overall Project Supervisor: Mr. Alikwan Ayub Kisubi (Town Clerk) and Mr. Kasala Daniel (Deputy Town Clerk)
Project Supervisor: Nyangweso M.G (CE)
Project manager: Lyada Philip (AEO)
Cross cutting issues:
Balaba Edward Elber (Senior Environment Officer)
Nandase Esther (Principal CDO)